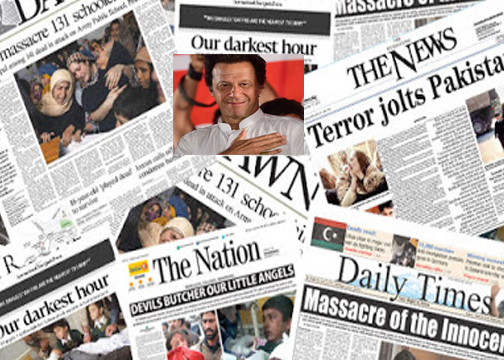 Pakistan world's most famous and oldest historical country. The newspapers and media also published from different province. It has largest number of newspapers, Televisions, Radios, Magazines and online new media. The top 100 newspaper directory published recently through All Pakistani newspapers website. The most popular newspaper also included to the database like Dwan, Dunya, Sama and express news.
Followings are Printed Newspapers of Pakistan:
The Dawn, Daily Express News, Jang News, Daily Pakistan, Daily Dunya News, Daily Ummat, The Express Tribune, Pakistan Today, The Nawaiwaqt, Daily Usaf, The Frontier Post, Daily Khabrain, Daily Jasarat, Daily Asas, Daily Nai Baat
Some online newspapers from Pakistan:
The Nation, the News, Daily Times Pakistan, The Daily Mail, Pakistan Observer, Times of Pakistan, Siasat Newspaper, Daily The Patriot, Business Recorder, Daily K2, Daily Jinnah, Daily Sama, Daily Islam, Daily Ajkal, Daily Kawish, Bebak Awaz, 24Ghantay, Daily Khabrain, Qum News, Daily Aeen, Falak News, Online Indus, Daily Ausaf, Urdu Point, Daily Jeejal, The Universal, The Financial Daily, Gujar Khan Express, Online News
Famous TV channel from Pakistan:
ARY News, Hum TV, GEO TV, Dunya TV, ARY Digital, City24 News, Samaa TV, PTV World, Such TV, Sindh News TV
Radio station from Pakistan:
Radio Pakistan, FM100 Pakistan, Power99 FM, City Fm89, Radio Awaz, Apna Karachi FM107, FM91 Pakistan, Hot FM105, Samaa FM, Dil FM, Hum FM107.5, Dak Dak Radio, Suno FM89.0, Funny Paki Radio
Magazine published from Pakistan:
Akhbar e Jahan, Mag The Weekly, Herald Magazine, PG Business Magazine, Monthly Phool, Nida E Millat Magazine, Ubqari Magazine, Weekly Family, Business Leader Magazine, Niazamana, Wichaar, Aanchal, Fashion Central, Centreline, Style, Fashion360, Sunday, Womens Own, Karachista, YouLin, Ibex Magazine, SHE, Hello Pakistan
There have many more online and info portal all around the Pakistan. Many media database provide the rank to those newspapers and news agencies like Pakistani newspaper list.